Light Up The Holidays Blossburg! We're back for the 2022 Christmas season!
Decorate the outdoors and light up the holidays in Blossburg and maybe you'll win a prize from Blossburg V.I.B.E.!
Prizes: Gift certificates to local businesses
First Place: $200 value
Second Place: $100 value
Third Place: $50 value
Light Up the Holidays judging will be held Dec. 18, 6 p.m. to 9 p.m. everywhere in the borough of Blossburg. Our judges will be driving around, taking pictures, and picking out winners during that time so make sure to have your Christmas lights on.
The "Light up the Holidays!" contest is free of charge and open to every resident of Blossburg. There is no registration, just decorate and you are entered!
Help us to create a Map of our beautiful Blossburg Christmas lights – Fill out the google form: https://docs.google.com/forms/d/e/1FAIpQLSfFTp078TuCpEhVfqy0Sl1kOb-tDJ8BEygBg50hHKV82Uvhxw/viewform?usp=sf_link
Last years winners are not eligible this year, but will be eligible next year.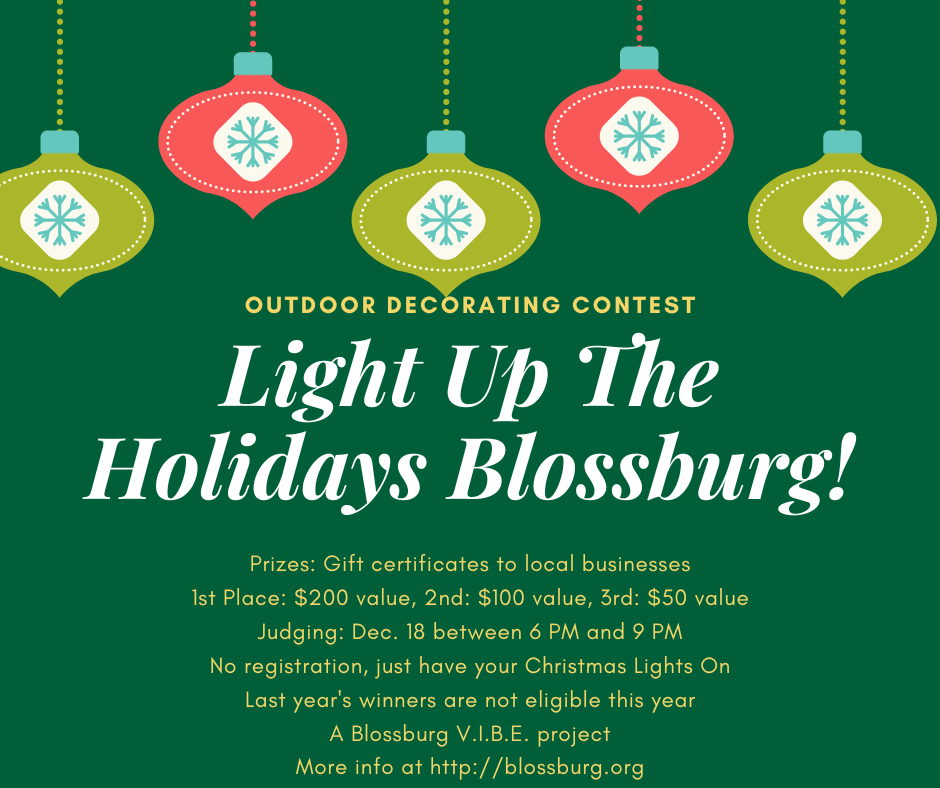 [gallery_bank type="list" format="masonry" show_albums="18%2C19%2C20%2C21%2C22%2C23%2C24%2C25%2C26″ title="true" desc="false" responsive="true" display="all" sort_by="random" animation_effect="bounce" album_title="true"]
A Project of

Created in 2004, Blossburg V.I.B.E. (Visions in Business & Entertainment) is a 501(c)(3) nonprofit organization that envisions, plans and implements projects to enhance the quality of life for those who live, work, play or attend school in Blossburg. For more information about Blossburg V.I.B.E. or to make a donation, visit us at http://www.blossburgvibe.com