Blossburg Fall Festival, Hosted by Blossburg V.I.B.E. – Oct. 15, 2023
Stop by Blossburg for the Blossburg Fall Festival on Sunday October 15, 2023 from 12 to 4 pm. It will be a fun filled day of craft vendors, musical entertainment, and games. Come on out and enjoy a great day with your community!
Featuring:
12 to 4 pm – Food, Games, Arts, Crafts, Fundraisers (Download vendor application from below)
12:30 to 2:30 pm – Live music
2 pm – Blossburg V.I.B.E.'s Hot Dog Eating Contest

Registration from Noon to 1:30 PM
Competition starts at 2 PM

3 pm – Kid's Pie Eating Contest

Noon to 2:00 PM – Registration
3 PM – Pie Eating Contest
Winners receive $25 cash prize and Pie trophy
Heat 1 – Ages 7 to 11
Heat 2 – Ages 12 to 15

2 pm – Pie Bake-Off –

Drop off at noon. Winners announced at 2 pm
We invite all pie bakers to submit their best homemade pies for the 2023 Pie Bake-Off!
2023 Blossburg V.I.B.E. Fall Festival Vendor Map – Printable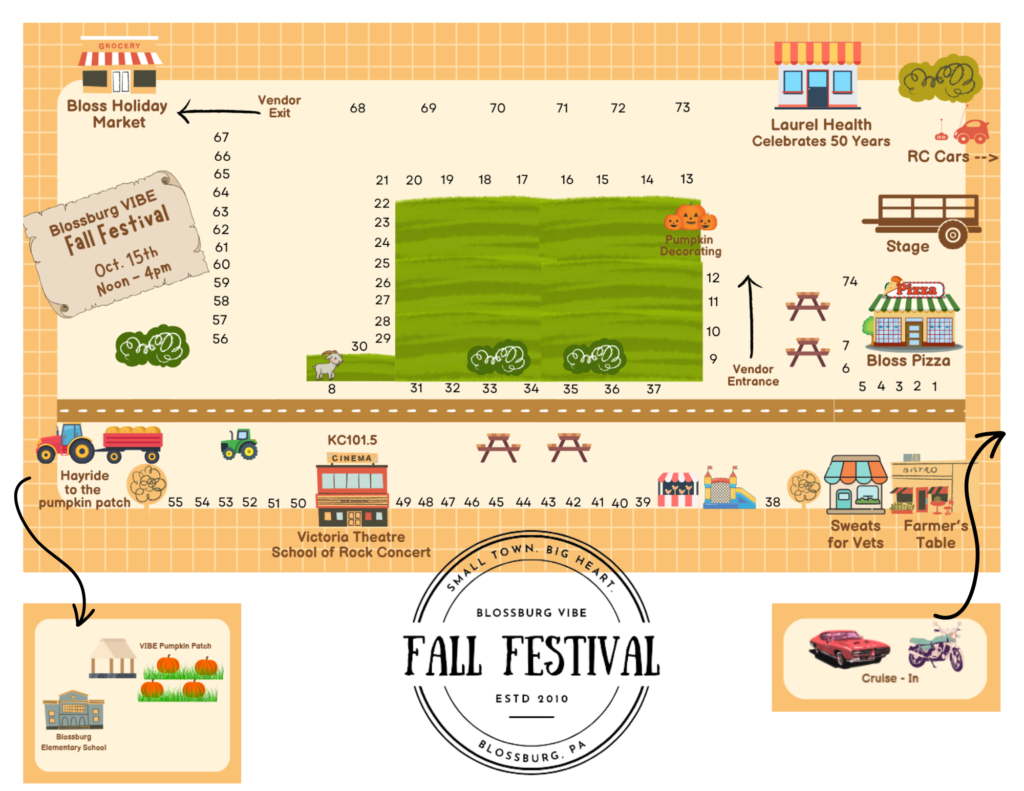 Parking
2023 Vendor List so far
Sons of the Legion-Food
Brenda Peguignot-cotton Candy
Bloss Legion Aux Mary Wickman-food
Sue Bowne-food
Wandering barista
Sweeter Side desserts-Victoria Manhart-baked goods
Joe and Darlene Namoli-crafts
Angela Kennedy –crafts
Tricia Owlett-crafts
Jennie Drumheller-Red Rock Job Corp (organization)
Abby Derryberry-Lemonade Stand for Space Camp
Bailey Schuster and friend-Crafts
Sean Sember-crafts (grammy Anne's crafts)
MaryAnn Tokarz-crafts
Jenn Williams-crafts/Plexus
Tonda Stocum-crafts
Heather Dietrich/john Lamonski
Shiela Landolf-crafts
Wreaths across America-Annie Brooks-Baked good auction
Anna Osborn-Girl Scout troop
Ethel Zeller
Blossburg Baptist-game and giveaway
Sarah Tinney and Nathan Harris-Goats and produce
Covington Baptist inflatables
Arnot Church- pumpkin and giveaway
J's Popcorn-Joe Congdon
Doreen Mase-jewelry
Don-DeGroff-Don's balloon creations
Ryann DeGroff-color street nails
Head start-giveaways informational
Dawn Mitchell-bath/body products (crafts)
Sandy Kling-crafts
Kim Sampson-Soup baked goods
Jennifer Busch-jams/jellies
Tammy Brown-bake goods/Crafts for GS troop
Sharon Breitenbeck-TC Dems-informational
Justina Cvetkovski-candles/crafts
Sheila Landolf-wood crafts
Suzanne Marble(Craig/Jackie Konzen) jewelry
Daryl/Deb Cavette- DLC designs
Kathy Hudson-chili
Linda Herbert-crafts
Mary/William Gilkinson-wood crafts
Kimberly Whtiney-Bump-T-Shirts custom apparel
Christina Raspa-crafts
Savana Ragan-candles/Watkins products
Angela Roosa-Force Baton Group
Taylor Nickerson
Dottie Gibbons
Kathy Krause Baked goods
Kyla Winder-Crafts
Cassie Chase-plants
Meghan Graham-Crafts
Larry O'conner-minature trees and wood crafts
Nikki Miller- Crafts
Robert Smith-Food Truck/trailer
Bloss Methodist-Mr. Sticky's, children's craft and childrens activities
Dee (Deb) Dry-crafts
Christina Van Ness-crafts`
Donna Lougher-crafts
Sheila Shaffer Paparazzi jewelry
Vendor Registration – Last day to register is Oct. 7
2023 Printable Vendor Registration Form
2023 Online Vendor Registration
Event Sponsorship
2023 Fall Festival sponsorship letter
Photos
Planning
Blossburg V.I.B.E. wants YOUR help with planning the Fall Festival. If you're interested in lending a hand, idea, or anything else, contact Jackie Smith at (570)404-4632
Volunteers Needed!
If you are looking for something to do, someway to help out, or maybe you need to get more community services hours for school , then volunteer to help V.I.B.E. put on the Fall Festival!
Contact
For more information about the Blossburg Fall Festival, contact Jackie, the Fall Festival Team Leader at 570-404-4632.
A Project of

Created in 2004, Blossburg V.I.B.E. (Visions in Business & Entertainment) is a 501(c)(3) nonprofit organization that envisions, plans and implements projects to enhance the quality of life for those who live, work, play or attend school in Blossburg. For more information about Blossburg V.I.B.E. or to make a donation, visit us at http://www.blossburgvibe.com