Blossburg Fall Festival, Hosted by Blossburg V.I.B.E. – Oct. 13, 2019
Stop by Blossburg for the Blossburg Fall Festival on Sunday October 13th, 2019 from 12 to 4 pm. It will be a fun filled day of craft vendors, musical entertainment, and games. Come on out and enjoy a great day with your community!
Featuring:
Noon to 4 pm – Food, Games, Arts, Crafts, Fundraisers (Download vendor application from below)
Noon to 2 pm – Live music
2 pm – Blossburg V.I.B.E.'s 2019 Hot Dog Eating Contest

Registration from Noon to 1:30 PM
Competition starts at 2 PM
Winner receives $200 cash prize and Top Dog trophy

Kid's Pie Eating Contest

Noon to 2:00 PM – Registration
3 PM – Pie Eating Contest
Winners receive $25 cash prize and Pie trophy
Heat 1 – Ages 7 to 11
Heat 2 – Ages 12 to 15

Pie Bake-Off – Drop off a noon.  Winners announced at 2 pm

We invite all pie bakers to submit their best homemade pies for the 2019 Pie Bake-Off!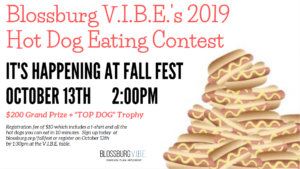 Vendors Registration
2019 Blossburg Fall Festival Vendor App
2019 Online Vendor Registration
2019 Fall Festival sponsorship letter – Coming Soon
Planning
Blossburg V.I.B.E. wants YOUR help with planning the Fall Festival. If you're interested in lending a hand, idea, or anything else, contact Jackie Smith at (570)404-4632
Volunteers Needed!
If you are looking for something to do, someway to help out, or maybe you need to get more community services hours for school , then volunteer to help V.I.B.E. put on the Fall Festival!
Contact
For more information about the Blossburg Fall Festival, contact Jackie, the Fall Festival Team Leader at 570-404-4632.
Supporters
Thank you to all of our wonderful supporters.  Go out and show them your support by shopping at their local business or saying Thank You.
Bloss Holiday Market – On Facebook
The Victoria Theatre – On Facebook
Blossburg Beverage Co. – On Facebook
Blossburg VFW
William B. Wilson American Legion Post 572, Blossburg
Decades of Beauty – On Facebook
Blossburg Borough – On Facebook
Covington Baptist Church – On Facebook
Berguson Trucking
Stager Vehicle Sales
VFW Post 8730
Thompson Tees
Kim's Hair Connection
First Citizens Community Bank – On Facebook
Paul Hosszu
Tioga Bradford Housing and Redevelopment Authority
Toddler University
Nickerson Construction
Bloss Pharmacy – On Facebook
Williamson Road Foundation
Bradford – Tioga Head Start
A Project of

Created in 2004, Blossburg V.I.B.E. (Visions in Business & Entertainment) is a 501(c)(3) nonprofit organization that envisions, plans and implements projects to enhance the quality of life for those who live, work, play or attend school in Blossburg.  For more information about Blossburg V.I.B.E. or to make a donation, visit us at http://www.blossburgvibe.com
Share